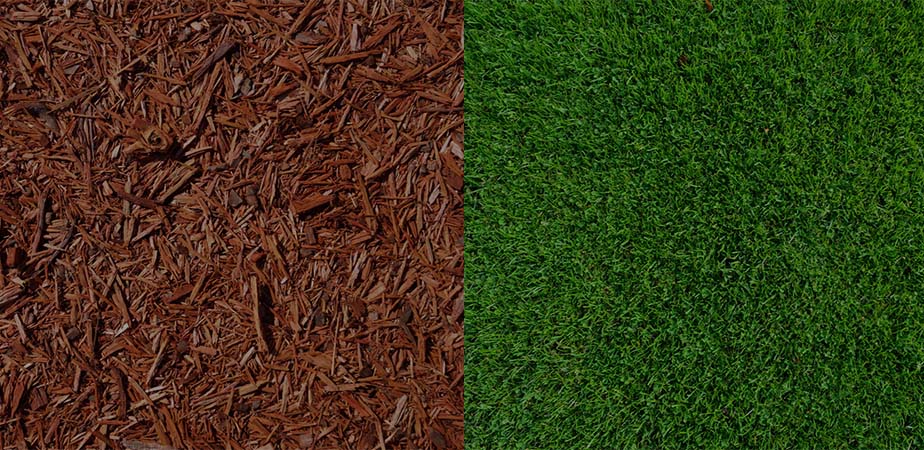 SOD KING UTAH
SOUTH JORDAN UT
We provide the highest quality Sod and Mulch for your home. We offer FREE Delivery and excellent service!

Text us today! (801) 203-3035
About Sod King
Sod King is a local Utah company that provides Sod Delivery and Installs & Mulch Delivery. No Pallet Fees and Free Delivery.
REVIEWS
Excellent customer service, absolutely beautiful grass!! I'm very pleased with sod king and i would highly recommend them!!!
Star rating added, no review comments were added.
Star rating added, no review comments were added.
Frank Henderson
2017-11-03
I had 9800 sq ft installed.From first phone call to final install was kind, educational and professional. They will go out of their way to work with you. They stay in close and quick contact and always kind. My new lawn looks great. Cost was better than others. Others could learn a lot from them.
When I bought the sod it wasn't green but it is really early in the season. I had them install the sod and afterwords it looked great. They were really fast. 2 hours for 2100 sqft. The info about the watering and stuff was very helpful. I will buy from them again.
Great people to work with, they were prompt in all three of their deliveries The product was better that we expected. It "Greened" really fast. We ordered over 100,000 square feet and No waste!!! . I would highly recommend Sod King to anyone
Awesome work! Put sod down in about 45 min. Very professional crew.
Great Prices and Great Service!
Star rating added, no review comments were added.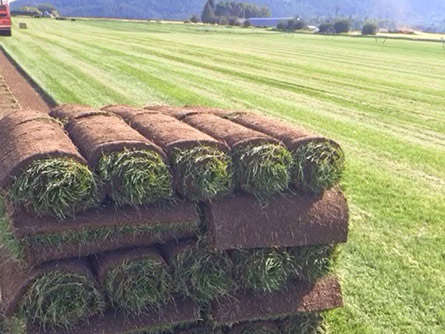 Sod
We offer premium Kentucky Bluegrass sod in South Jordan, a very suitable grass for the weather, and the most popular grass in the state. Before we install sod on your yard, make sure that we get a solid idea of what you want and how much you are looking to spend. Never hesitate to get in touch with us if you ever have any questions or concerns. Remember measure twice and order once.
Sod in West Jordan Utah, South Jordan Utah, Draper Utah, Riverton Utah, Herriman Utah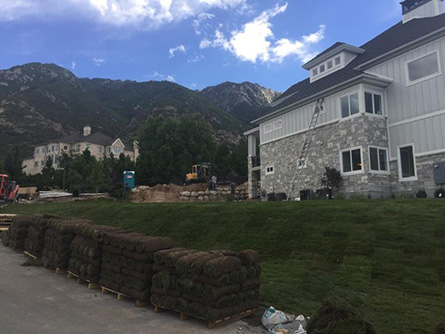 Lawn Care Guide
Fertilizer Guide in South Jordan: When temperatures are fairly cool and your lawn is dry, apply fertilizer that is applicable to your soil and climate. Check with your local nursery or garden center for what works best. For best results, apply fertilizer with a broadcast-spreader rather than a drop spreader on your sod. Apply fertilizer to your sod three times per year. New sod does best with fertilizer underneath the grass. Spread the fertilizer on the bare dirt if possible. If not, spread it on the sod. Water the ground immediately after applying. Water all fertilized sod areas immediately following fertilization. Begin a normal watering schedule after that.
Lawn Care Guide in South Jordan Utah, Draper Utah, Riverton Utah, Herriman Utah, West Jordan Utah
Sod Types
Sod King - King Blue (Kentucky Bluegrass) Alpha Sod has created a mixture of blue grass that combines the top seed varieties in all categories. This mix gives us excellent wear tolerance, disease resistance, and of course color! Alpha Sod uses seed only rated the highest in its category based off the National Turf-Grass Evaluation Program (NTEP). Excellent farming practices combined with rich fertile fields located at optimal growing elevation ensures that we provide the absolute best product possible for South Jordan. • 100% Kentucky Blue Mix • 5 Variety seed mix • National Turf-Grass Evaluation Program (NTEP) •Sod Annually certified by the US Department of Agriculture Seed Blend Composition: 20% Shamrock Bluegrass 20% Moonlight Bluegrass 20% Midnight Bluegrass 20% Gladstone Bluegrass 20 %Diva Bluegrass
Sod Types in Riverton Utah, Draper Utah, Herriman Utah, West Jordan Utah, South Jordan Utah
CALL

Call us

801-203-3035